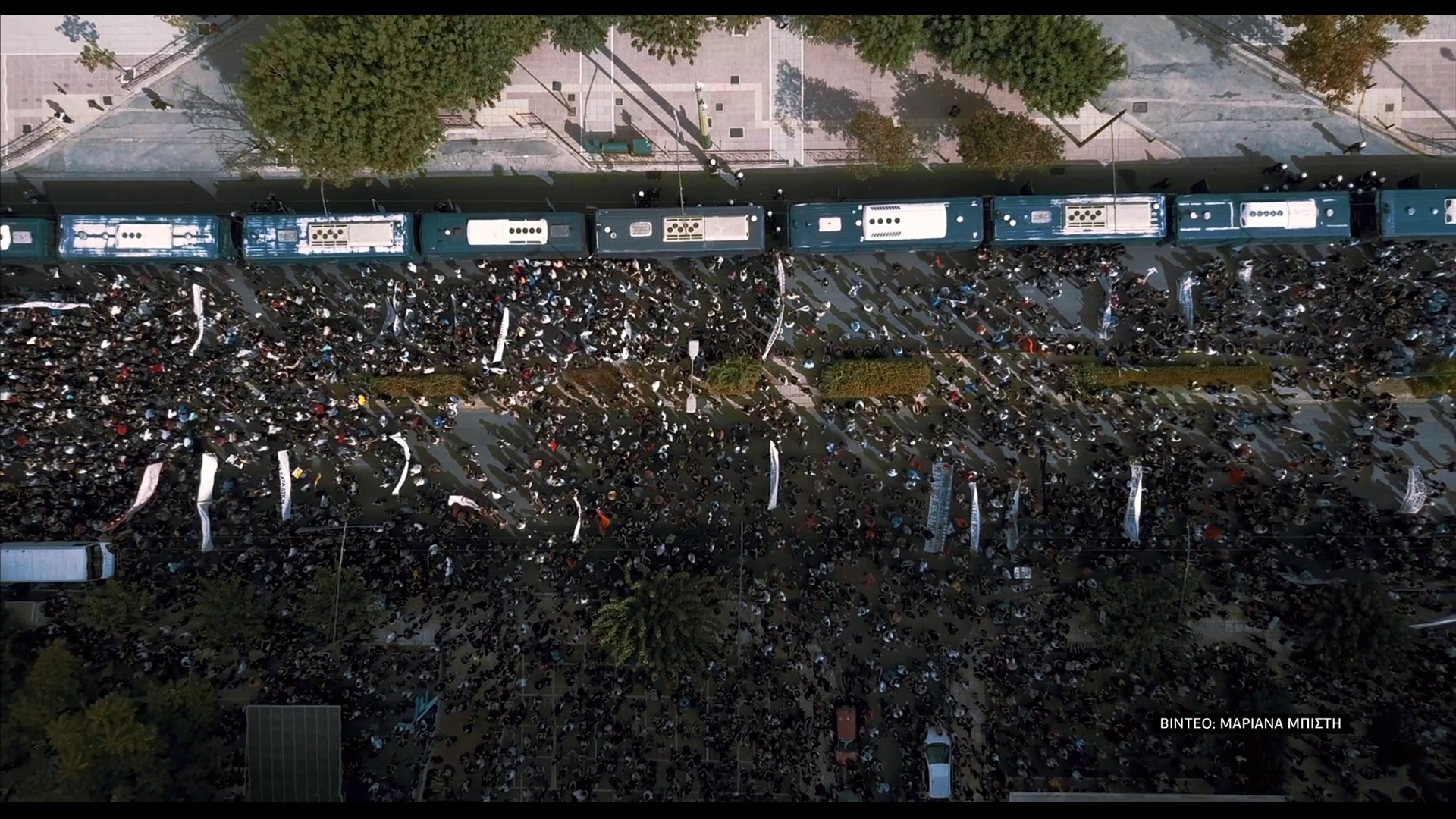 cinema
5½ years
Program:
Wednesday/Thursday, 5 & 6 October 2022 | 20:00
Info / Ticket Reservations:
reservations required: info@polychorosket.gr & 213 00 40 496
About
The documentary 5½ years (2022) by Myrto Symeonidou and Ioanna Papaioannou will be screened at KET for two nights, October 5 & 6.
On September 18, 2013, 34-year-old Pavlos Fissas, antifascist rapper known as Killah P, is murdered in Keratsini by George Roupakias, a member of the Golden Dawn organization, after a coordinated attack. In the same month, the leadership team as well as dozens of executives and members of the organisation are arrested.
The trial that follows – one of the most important in modern Greek history – begins on 20 April 2015. After a lengthy interrogation process, the Appeals Council decides to indict 69 members of the organisation, including the entire Parliamentary Group, on charges of belonging to a criminal organisation and directing a criminal organisation. The trial has lasted five and a half years.
In October 2020, the Three-Member Criminal Court of Appeal, in a unanimous decision, announces that Golden Dawn is a criminal organisation, for the direction of which the leader and six other MPs are responsible. The remaining 11 members of the then Parliamentary Group are found guilty of membership and participation in a criminal organisation.
The documentary "5½ years" deals with the experience of the journalistic coverage of the Golden Dawn trial. Based on interviews (with Eleftheria Koumantou, Angélique Kourounis, Yannis Baskakis, Antonis Bouyas, Konstantinos Poulis, Aphrodite Fragou), it focuses on the experience of the journalists who chose and insisted on following the trial and informing us about it, despite its duration, and while the majority of the major media did not systematically cover the trial. The filmmakers' research (Myrto Symeonidou, Ioanna Papaioannou) thus sheds light on one of the most significant events in our recent political history, but also on a pivotal moment in the effort to establish and shape an independent journalism in Greece.
The documentary premiered at the 24th Thessaloniki Documentary Festival in March 2022.
Credits:
Script – Direction: Myrto Symeonidou, Ioanna Papaioannou
Director of Photography: Nikos Panierakis
Sketches – Graphics: Louisa Karageorgiou
Editing: Ioanna Papaioannou
Sound: Alexandros Lykostratis
Original Music: Nikos Baxevanakis, Yannis Potamitis
Duration: 70′
Trailer: https://youtu.be/JZzrkmAka-E
Facebook page: https://www.facebook.com/pentemisichronia
*The film is screened in Greek with English subtitles.
*A discussion will follow after the screenings.