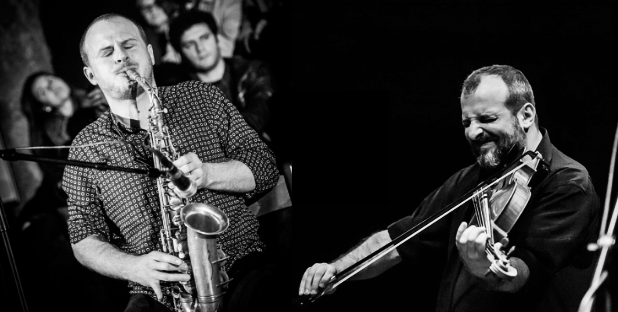 music
Fausto Sierakowski/Michalis Katachanas Duet
Program:
Thursday 21/11, 21:00
About
Fausto Sierakowski (alto sax) and Michalis Katachanas (viola) met in the fall of 2011, while improvising at one of the New England Conservatory basements in Boston. Having both completed their postgraduate studies in America, they meet again at KET for yet another improvisation. They create an unexpected duet exploring the boundaries of traditional music and free jazz. They conversate with each other by alternating roles and tones.
Fausto Sierakowski
He was born in 1988 in Paris and grew up in Rome. In 2009 he received a Diploma in Classical Saxophone from the Conservatorio di Santa Cecilia under the direction of Alfredo Santoloci and in 2012 he obtained a Masters Degree in Modern Improvisation from the New England Conservatory under the guidance of Anthony Coleman, Hankus Netsky and Frank Carlberg. During his stay in America and until his return to Europe in 2014, he participated in concerts and recordings with musicians such as Matt Moran, Anthony Coleman, Joe Morris, Matt Darriau, Satoshi Takeshi, Hayden Chisholm and Axel Dörner. In 2016 he moves to Greece to study Classical Ottoman Music and ud with Eugene Voulgaris. Since then he has been involved in the musical ensembles of Eugene Voulgaris, Thymios Adzakas and James Wylie, as well as in several bands, such as: People of the wind (with Alexander Rizopoulos) and Rodakina (with Avgerini Gatsi, Maria Ploumi and Evi Canellou).
Michalis Katachanas
He was born in Piraeus. He started classical violin lessons at the age of 8 with Kostas Kavakos. In 1990 he was admitted to the Experimental Music High School of Pallini and in 1999 to the Department of Music Studies of the Ionian University from where he graduated in 2006, under the supervision of Dimos Dimitriadis. In 2008, he was accepted to graduate studies at the New England Conservatory of Music's Modern Improvisation Department in Boston, USA, with a scholarship by Fulbright Foundation. He studied with important teachers such as Charlie Banakos and Ran Blake. In early 2012, he formed the Michalis Katachanas Quartet and performed concerts in many music scenes and made recordings for radio and television. As a Jazz violinist and composer he has collaborated with many known greek composers (Nikos Xydakis, Mimis Plessas, Katerina Fotinakis, etc.) and foreign musicians (Jackie Leven, Antony Coleman, Joe Tornabene, etc.). He composes and plays music for theatrical performances (Ornithes, Polemos Topion, Ena Karfi ston Toiho, Trisevyeni). He has two personal records (Murderess and To Trito Hreos) and numerous recordings in Greece and abroad. Since 2014 she has been teaching at the Jazz Department of the Athens Conservatory.