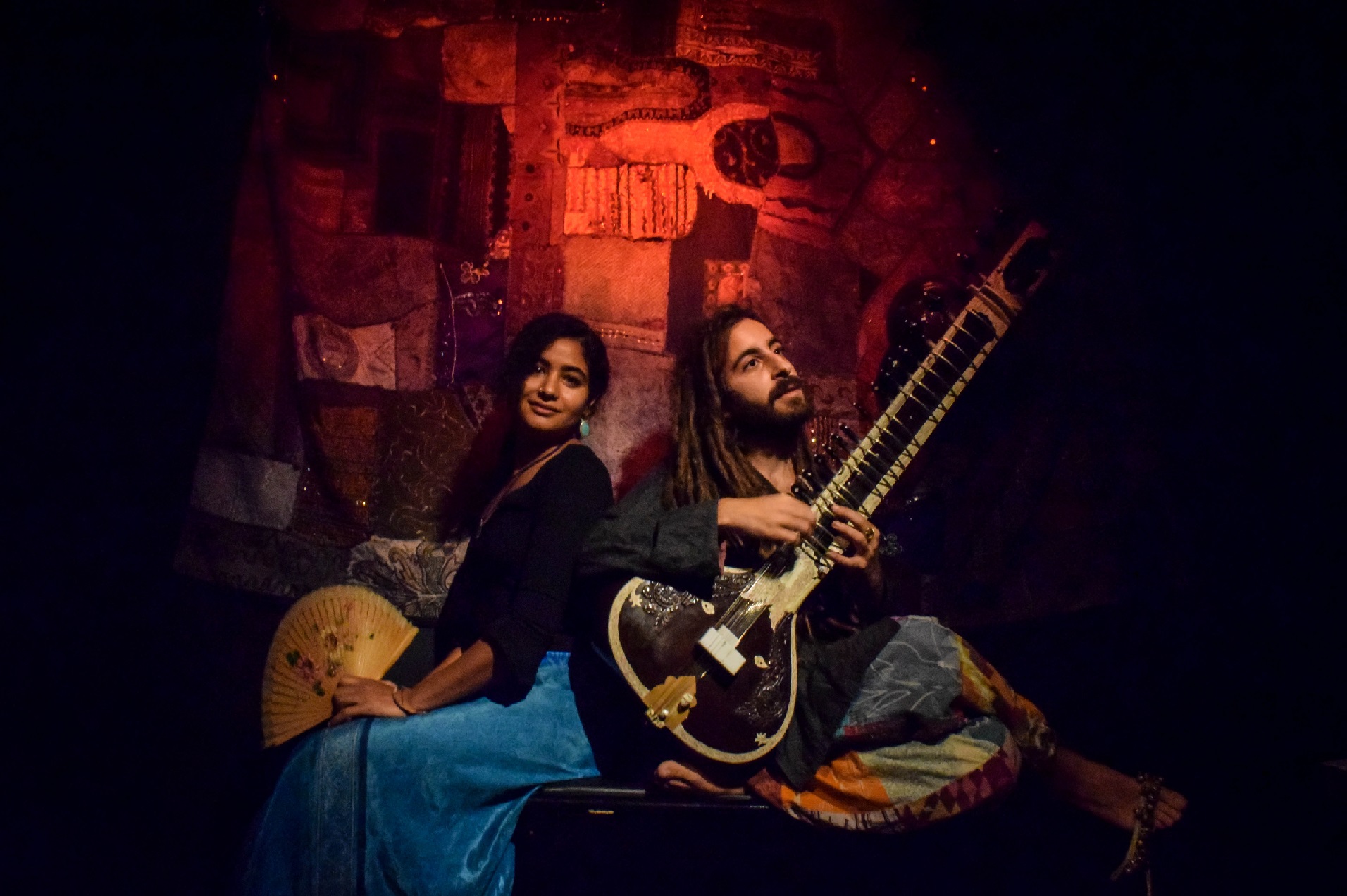 music/dance
Indian Classical Music | Mystic Dance
Program:
Friday 31/1, 21:00
Info / Ticket Reservations:
About
Iasonas Psarakis visits KET for a unique concert with Sitar and Esraj, just before returning to India. Along with Iasonas, a dancer, Basma Kamal, will perform a mystical shadow dance.
A musical performance with sounds that will take you far and wide across time and distance. A musical journey to India. Each raga symbolizes and invokes the elements of nature, capturing emotions, sensations, images. An invisible painting of ether. A story of sound, vibrations, phrases and colors, where our imagination can create the reality that we long for and deserve.
More info: www.facebook.com/iasonaspsarakis
Bios:
Iasonas Psarakis is a Greek born Hindusthani Classical and experimental sitarist, multiinstrumentalist, music composer, presently based in Shantiniketan, Kolkata, India. His career spans from European classical to Middle eastern and journeys through Hindusthani Classical Music under the guidance of Guruma Ameena (daughter of Ustad Ali Akbar Khan), Pandit Debi Prasad Chatterjee, Shiraz Ali Khan, Amie Maciszawski and Sabyasachida Sarkhel. He also graduated from Sangit Bhavan-Visva Bharati University (BMus-HCM-Sitar/performance arts), holder of scholarship under ICCR India. Iasonas published his first album "Clay" (2014), a music album which was recorded in Lebanon with Indian Classical Music and sounds of Iran. He has showcased his music in theatres, auditoriums, collectives, cultural venues, radios and street performances in Turkey, Kurdisthan, Iran, Egypt, Lebanon, Greece, India,Italy, Bangladesh and to music festivals globally. Worldknown cultural organization "Bibliotheca Alexandrina" has organised him recenlty, his first solo concert in Cairo. Iasonas is also part of the projects with the names "Modern classical sound" and " Panchamaha Bhuta" with Ethno-Classical Recordings India, and both projects will be launched globally soon.
Basma Kamal is an Egyptian-American dancer, based in Greece. She has studied from her childhood, Egyptian folk dance and in 2008 she studied flamenco dance in Seville-Spain. She is also yoga alliance certified Hatha Yoga and mindfulness meditation teacher. She studied in India and continued practicing and teaching yoga in Washington state U.S. and currently in Greece. She focuses on Mindful Heart opening and expression though yoga asana and she is the founder of Heart Dance Yoga Flow.