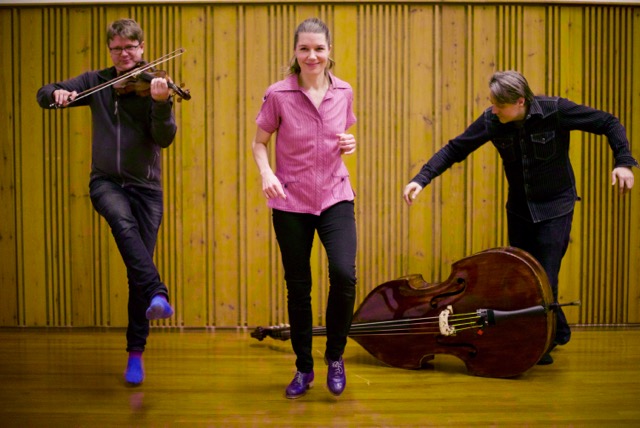 music/performance
One Small Step | Tap Dance Trio
Program:
Tuesday 28/5, 21:00
Info / Ticket Reservations:
About
The norwegian trio One Small Step in cooperation with Elina Vafeiadi, present an improvisational/music performance at KET.
Improvised minimalistic music with tap dance, fiddle and double bass, with elements of jazz, contemporary music and Norwegian folk music.
Janne Eraker (tap dance)
Elina Vafeiadi (tap dance)
Roger Arntzen (double bass)
Vegar Vårdal (fiddles)
Janne Häger Eraker is a German-Norwegian tap dancer based in Oslo. She experiments with tap dance as percussion in combination with all sorts of music and dance. At the moment her main projects are the minimal improv-trio One Small Step, the solo-performance Rhythm is a Dancer, the new hip hop project SLØY and collaborations with noise- and improv-musicians. She also performs as a tap dancer in Sebastian Weber Dance Company in Germany.
Roger Arntzen is involved in many internationally critically acclaimed bands, such as the piano trio In the Country, with hyperpiano player Morten Qvenild and drummer Pål Hausken, and Trail Of Souls, with vocalist Solveig Slettahjell and blues guitarist Knut Reiersrud. He is also the bass player of Ballrogg, a semi-improvised/semi-composed minimalistic bass/reeds/guitar trio. Together with clarinet and alto sax player Klaus Ellerhusen Holm and guitarist Stackenäs, Ballrogg has released four albums, their latest on the Portuguese label Cleanfeed. With baritone-guitarist Asbjørn Lerheim, IPA-saxophonist Atle Nymo and Elephant9-drummer Torstein Lofthus Roger Arntzen makes the forth member of the rockjazz quartet Chrome Hill. They have released five albums, their latest on Clean Feed. They have received critical acclaim for their latest album The Explorer in Portugal and Japan.
Vegar Vårdal is a folk musician and folk dancer. He is educated at the Norwegian Academy of Music with the fiddle and Hardanger fiddle as his main instruments, and has established himself as a versatile performer. Vegar is also the artistic director of Kultivator, and works as a composer, choreographer, musician and teacher.
Elina Vafeiadi is a tap dance performer and teacher, activated in Athens. She has been involved with the modern and classical dance from an early age. Alongside her bachelor in Mathematics, her main training was in percussive dances (rhythm tap and body percussion) in Greece and abroad. From 2009 she has been teaching these percussive forms of arts in dance schools and she has organized tap events. Now she is getting involved in jazz music projects, focusing and exploring the musical form of this art.
Περισσότερες πληροφορίες: