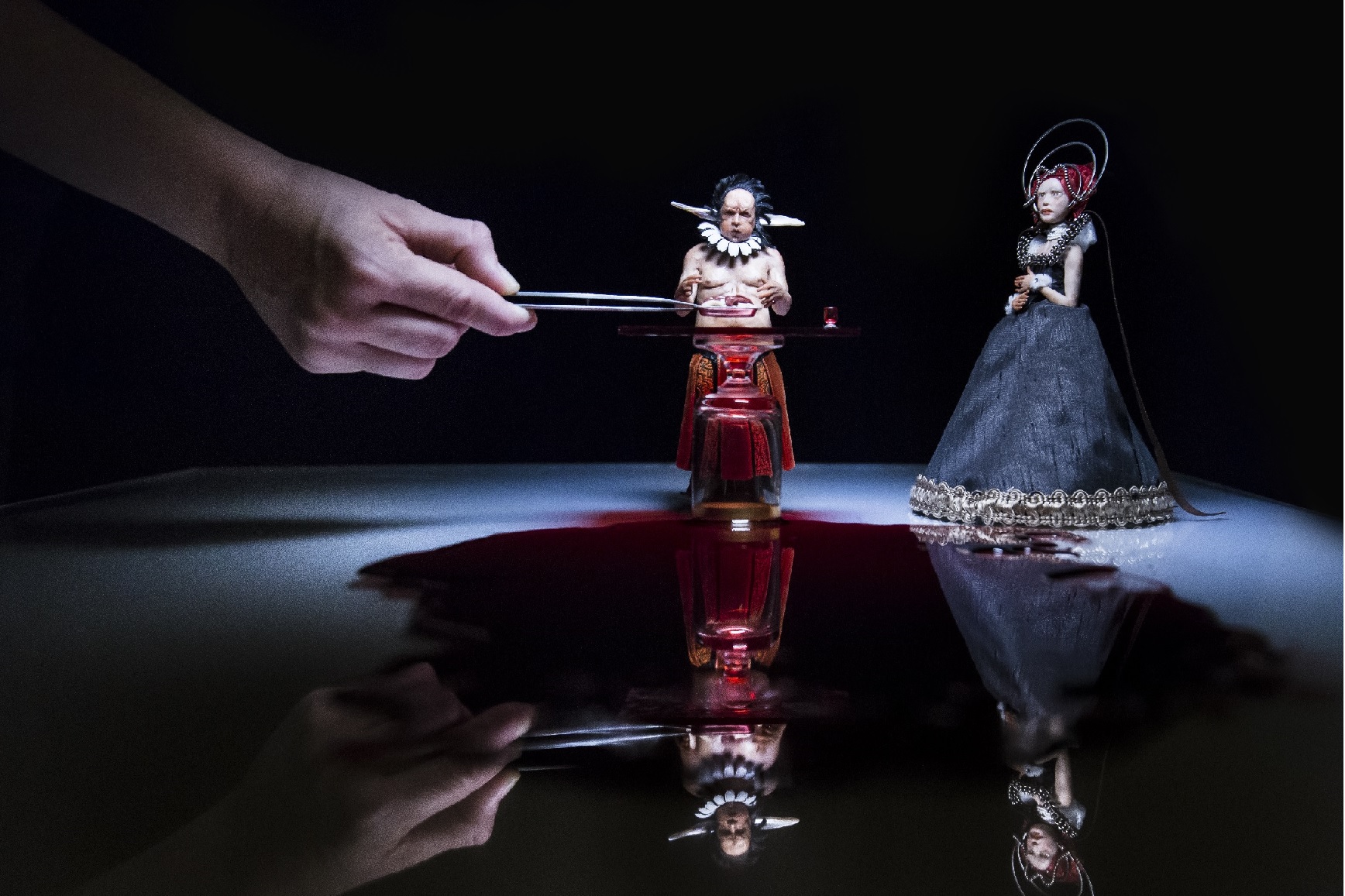 theater
The Little Girl in the Dark Forrest
Program:
November, every Monday & Tuesday, 21:00
Info / Ticket Reservations:
Contributors
translation:
Dimitra Kondylaki (in the context of the workshop for theater translation at the French Institute of Greece)
direction:
Pantelis Dentakis
assistant director:
Yiorgos Kritharas
creation of small sculptures:
Clio Gizeli
Video art:
Apostolis Koutsianikoulis
stage installation:
Nikos Dentakis
costumes:
Kiki Grammatikopoulou
music:
Stavros Gasparatos (in collaboration with Yiorgos Mizithras)
technical advisor:
Panagiotis Fortounis
photos:
Domniki Mitropoulou
communication:
Yeorgia Zoumpa
actors:
Polydoros Vogiatzis, Katerina Louvari-Fasoi
About
The Black Forest group presents for a second year at KET the work of French award-winning author Philippe Minyana The Little Girl in the Dark Forest, directed by Pantelis Dentakis. It is a free adaptation of "Prokni and Philomila" by Ovid's "Transformations".
The plot of the play:
The Young King rapes his wife's little sister into a hut in the Dark Forrest. He cuts off her tongue and leaves her alone and helpless. He returns to the palace and, allegedly crushed, tells his wife that her sister was drowned in the sea. Twelve months later, and while the queen is still mourning, an old woman appears in the palace and reveals the appalling acts of the king. She unfolds a scarf embroidered by the Little sister, whose red threads tell the story and point the way to the hut. The Queen runs to find her sister and together they plan their revenge.
A few words about the performance:
The performance uses different narrative instruments, attempting to create an imaginative and nightmarish microcosm. The – alive – world of actors encounters the mysterious world of sculptures (miniatures). The present theatrical time is intertwined with video art. Natural sound coexists with electronically processed sound. The protagonists of the show are small sculptures representing the heroes of the play. Through live and recorded speech, the actors give them a voice while playing with them. Two screens bring the scenery to life, displaying edited images, static and animated. A third screen reproduces the story at the same time, using close-ups in small sculptures, playing with montage and visual effects.
A few words about the play:
Minyana creates a harsh text, moving between storytelling and theatrical action, shaping a world of arrogance, perversion, vulgarity and revenge. The heroes enter a tragic cycle of blood, which will only close when they are completely crushed. The story unfolds in a heavy, dark environment, where even behind childhood innocence monstrous instincts hide. Morbidity gives rise to more morbidity and violence brings rage and punishment. However Minyana – faithful to Ovid's story – gives in the end a "second chance" to the heroes, transforming them into birds; they are liberated and redeemed from human fate, so the play ends with the hope of a new, pure life.
The performance is in the greek language.